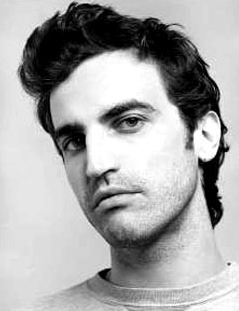 Nicolas Ghesquière (born 1971 in Comines, Nord) is a globally recognized fashion designer and is currently creative director for the house of Balenciaga owned by the Gucci Group (PPR). He grew up in Loudun, Vienne.
Balenciaga
Edit
In 1997, at the young age of 25, Ghesquière was the surprise choice to head Balenciaga. Promoted to creative director of Balenciaga after his Belgian predecessor Josephus Thimister was fired. At that time, Balenciaga was owned by Groupe Jacques Bogart, in bad shape, and its heads realized his talent when he designed a small collection for one of their Japanese licences. He is known for his sense of "silhouette," pairing highwaisted skinny pants with a voluminous "blouson," or a tightly cut wool jumpsuit with billowing sleeves.
Consistently reinventing himself by moving in new directions, he turned Balenciaga completely around. An aspect of the designer's devotion to the house's legacy is his respect for Cristóbal Balenciaga's unyielding elegance and inventiveness. However, even though the Balenciaga archives are stored in Ghesquière's atelier, he can gain entry to the locked room only by special appointment with an off-site custodian.
Yet, he likes to repeat and tries to prove he's far from being a nostalgic and uses his "child of the 80s" (as he describes himself) memories, his vision of fashion's future in his creation a lot. Ghesquière looks to the future in his collections with a mix of elements of science fiction and organic forms.
The Gucci Group (PPR) bought Balenciaga in 2001. Ghesquière who wanted to stay and expand Balenciaga could only be bought through the house. "It is a happy relationship," Ghesquière says. "It has worked because they wanted me to explain what I wanted to do with Balenciaga, not the other way around." Ghesquière's collections are ineffably cool and cutting-edge, but they have also had a huge commercial impact; not so much in terms of what he sells himself (his is a rarefied, high-end designer product) but through his influence on other designers.