The fashion industry is a product of the modern age. Prior to the mid-19th century, most clothing was custom made. It was handmade for individual persons.
What is Fashion?
Edit
Fashion is something we deal with everyday. Even people who say they don't care what they wear choose clothes every morning that say a lot about them and how they feel that day. One certain thing in the fashion world is change. We are constantly being bombarded with new fashion ideas from music, videos, books, and television. Movies also have a big impact on what people wear. Ray-Ban sold more sunglasses after the movie Men In Black. Sometimes a trend is world-wide. Back in the 1950s, teenagers everywhere dressed like Elvis
Presley.ls, either as home production or on order from dressmakers and tailors. By the beginning of the 20th century—with the rise of new technologies such as the sewing machine, the rise of global capitalism and the development of the factory system of production, and the proliferation of retail outlets such as department stores—clothing had increasingly come to be mass-produced in standard sizes and sold at fixed prices. Although the fashion industry developed first in Europe and America, today it is an international and highly globalized industry, with clothing often designed in one country, manufactured in another, and sold world-wide. For example, an American fashion company might source fabric in China and have the clothes manufactured in Vietnam, finished in Italy, and shipped to a warehouse in the United States for distribution to retail outlets internationally. The fashion industry has long been one of the largest employers in the United States, and it remains so in the 21st century. However, employment declined considerably as production increasingly moved overseas, especially to China. Because data on the fashion industry typically are reported for national economies and expressed in terms of the industry's many separate sectors, aggregate figures for
world production
of textiles and clothing are
difficult to obtain
. However, by any measure, the industry accounts for a significant share of world economic output.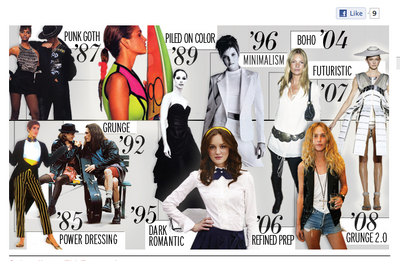 The fashion industry consists of four levels: the production of raw materials, principally fibres and textiles but also leather and fur; the production of fashion goods by designers, manufacturers, contractors, and others; retail sales; and various forms of advertising and promotion. These levels consist of many separate but interdependent sectors, all of which are devoted to the goal of satisfying consumer demand for apparel under conditions that enable participants in the industry to operate at a profit.
Community content is available under
CC-BY-SA
unless otherwise noted.