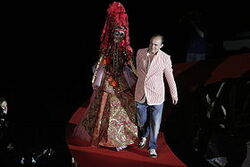 Christian Marie Marc Lacroix ( born May 16, 1951) is a renowned French fashion designer.
Around the same time, he met Jean-Jacques Picart. Picart was press attache for several haute couture houses and provided aid in gaining Christian Lacroix a job working at Hermès in 1978, where he worked on color schemes and the execution of designs, and then Guy Paulin in 1980. After graduating from the École du Louvre, in 1981 he started working at Jean Patou, where he worked until 1987.
With help from Jean-Jacques Picart, Lacroix mange to put out season after season of popular clothing. Bright colors, luxuriance, and perfection made Lacroix and Picart popular designers of the time.
Later, Lacroix would gain the award for "most influential designer" by the CFDA for foreign designer in January 1987.
Examples of Work
[
]